Michael Merle has joined Autovol, Inc., as business development director. Merle brings two decades of experience serving clients in hospitality, multifamily, and single family construction—both modular and conventional.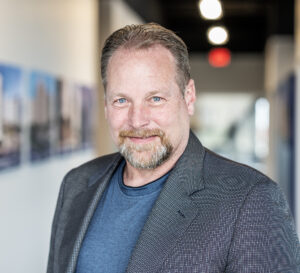 Merle has held senior positions in several leading modular and building products companies. This includes five years as Vice President of Sales and Business Development at industry leader Guerdon Modular Buildings. While at Guerdon, Merle served on major multifamily, hospitality, student, workforce, and assisted living projects across the western U.S. and Canada. He helped establish the processes for the first branded modular hotels in the U.S. for Marriott, Hilton, Hyatt, and IHG. Most recently, Merle served as General Manager of the Wall Panel Prefabrication division of Mitsui Home America. Mitsui is Japan's largest home builder. Leading its wall panel operation extended Merle's experience with factory automation for construction.
In just over three years of operation the Autovol plant has leveraged automation and smart methods to become the nation's highest-volume modular builder in the multifamily segment. The first-of-its-kind factory offers production capacity proven by more than 1 million square feet of living space and 12 successful multifamily projects. According to Rick Murdock, Autovol Co-founder and CEO, Merle has joined to bring this highly productive approach to more clients.
"We're excited to have Michael join our team of Solutioneers," Murdock said. "He's got all the right experience and character to enhance our efforts to quickly provide quality housing to more people in more places."
Merle says joining Autovol after his recent role at Mitsui is "a homecoming."
"I'm delighted to get to be a part of executing the vision that is changing the landscape of the modular industry," he said.
Autovol's team of more than 200 Solutioneers includes many with decades of modular construction experience. The Autovol plant design uses automation, robots, and machines to take the heavy lifting off of people, increasing precision and productivity in the process. All the construction trades are practiced in the Autovol plant. Many at Autovol and related companies working with Autovol have worked with Merle in the past.
"So many of my friends and acquaintances have united here to team up and make such a meaningful impact on the housing affordability crisis and the commercial modular industry," he said. "I'm excited to leverage my experience, background, and relationships to help grow and support these collective initiatives."
With "family" as one of Autovol's five core values, the company strives to focus not just on highlighting the credentials of Solutioneers, but also celebrating them as people. On that note, Merle has a rich life experience, including stints as a musician and restaurant owner. He's a husband and father, and has a home in the pristine mountains of Atlanta, Idaho (population, approximately 28).